Amsterdam Super Trunk Show 2020
On the 7th of March 2020 we opened the doors to the first ever edition of the Amsterdam Super Trunk Show. We had a great day and were happy to receive over 300 visitors at the event. With it being the first edition of the Amsterdam Super Trunk Show and uncertainties around the Corona virus just starting to pop up we were very happy with the amount of people that came to show their interest, love and appreciation for shoes and style in general. We want to thank all the contributors and brands that helped making the event possible. Together, we made the Amsterdam Super Trunk Show a great success! Looking back at this event we have summarized the day in a picture compilation.
Right as we opened the doors to the Amsterdam Super Trunk people started pouring in and the mood was set. People where super eager to know more about the shoes and brands that were there and the positive mood for the day was set basically right away. As a precaution we had signs posted around the venue to let visitors know it is ok not to shake hands that day and requested everyone to make sure they often wash their hands to prevent further spreading of the virus. With that out of the way let's talk a bit more about the brands and the first Dutch Championship shoe shining.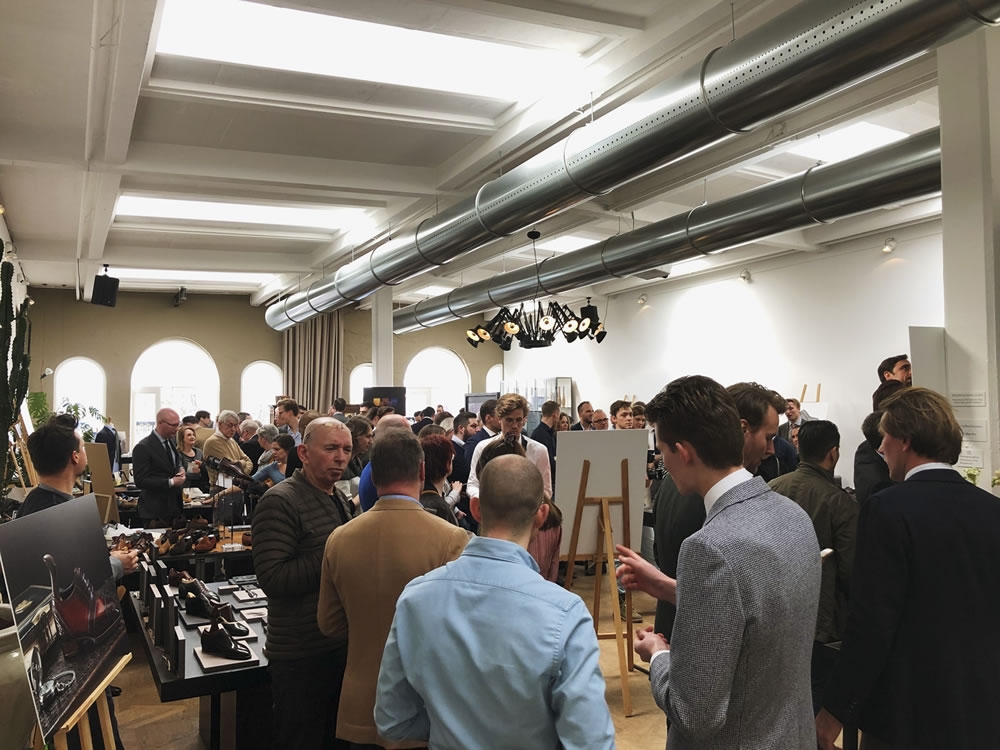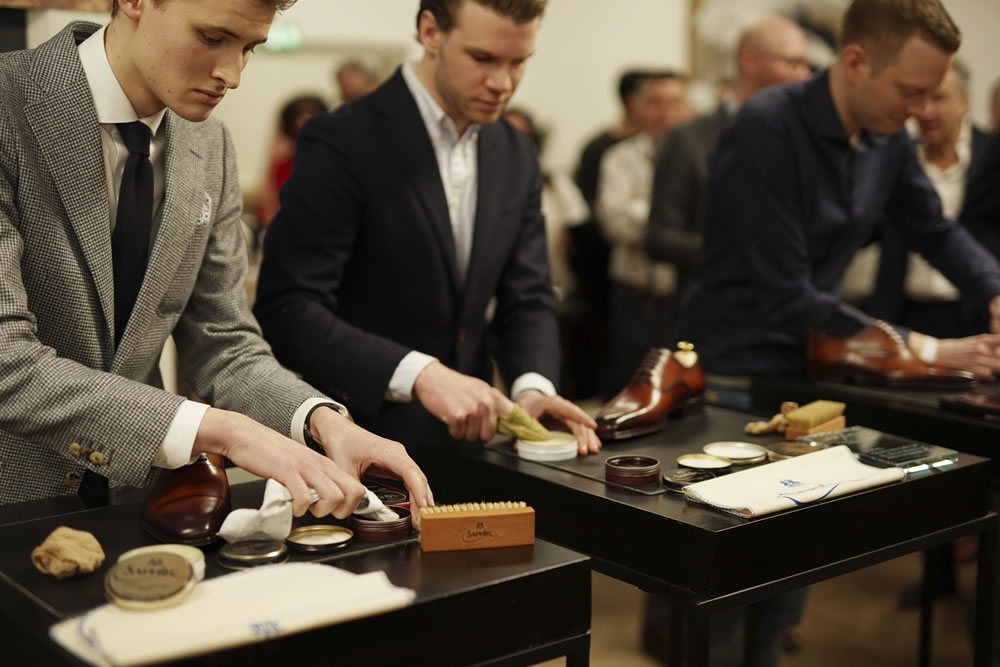 At 14:00 it was time for the first Dutch Championship shoe shining made possible by Saphir, Dumco and The ShoeCare-Shop. The shoes are by Magnanni and supplied by Zwartjes Amsterdam. The objective was to shine a pair of new out of the box Magnanni shoes as shiny as possible within a 20 minute time frame. The three finalists were Theo Frijn, Mike Reuvekamp and Jan Quinten Oskam.

The judges consisted of Marc Moura (owner of Saphir), Jesper Ingevaldsson (from ShoeGazin.com), Bas van Exter from The ShoeCare-Shop, André Sprangers (from Amsterdam shoe store Zwartjes van 1883), and Ivo van Regteren Altena (Ex journalist, owner of YVRA perfume and life-long shoe fanatic).
There was strong competition between the contestants, but there can only be one winner. Each of the three contestants did a great job, but there was only one truly flawless. We can therefore announce that this years champion is Theo Frijn! Congratulations!
Judging of the shoes by the jury. From left to right: Bas van Exter, Marc Moura owner of Saphir, Yvo van Regteren Altena + The winner! Congratulations Theo Frijn