The Shoe Care Shop offers you a number of safe payment methods.
Creditcard and Debit card:
In our shop, you can pay by Creditcard and Debit card. We accept all cards Verified by VISA and with MasterCard SecureCode.

PayPal:
It is also possible to pay your order via PayPal. You need a PayPal account to use this payment method.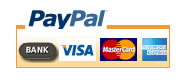 Payment in advance by wire transfer:
You can pay your order in advance by transferring the total amount of the order, and state your order number, to our bank account in the Netherlands. Company name: The Shoe Care Shop, these are our bank details: IBAN NL40RABO0126653011, BIC RABONL2U.